Three generations, 80 years of experience and solid values permit us to offer the best service to each and every client.
More than 75 years of history
In 1942 a group of Catalan enterprising families decided to create a company that years later would convert into Cromogenia Units and that on this stage was called Cromogenia and Chemical Tanning. The name Cromogenia came from its main action: the fabrication of chrome salts and its derivates. Those pioneer families were: Cabestany, Guixà, Guilera, Sant i Ayuso. Today it's the third generation of these first dreamers that continues provoking the growth of Cromogenia Units. This will be an honor to all the people that during these 75 years have been working to convert Cromogenia Units into what it is today: a familial company that has internationalized without losing its proximity and adaptability to its clients. But as well it is a kind of inspiration for future generations that for sure continue provoking the growth of this company. If you want to know something more about these 75 years of Cromogenia, you can read our book.
Cromogenia Units SA develops and fabricates a great quantity of chemical specialities that are destined to a wide variety of industries since 1942. During these almost 80 years there are already three generations out of the first foundational families that have been at the top of a company that offers a familial treatment and international perspectives.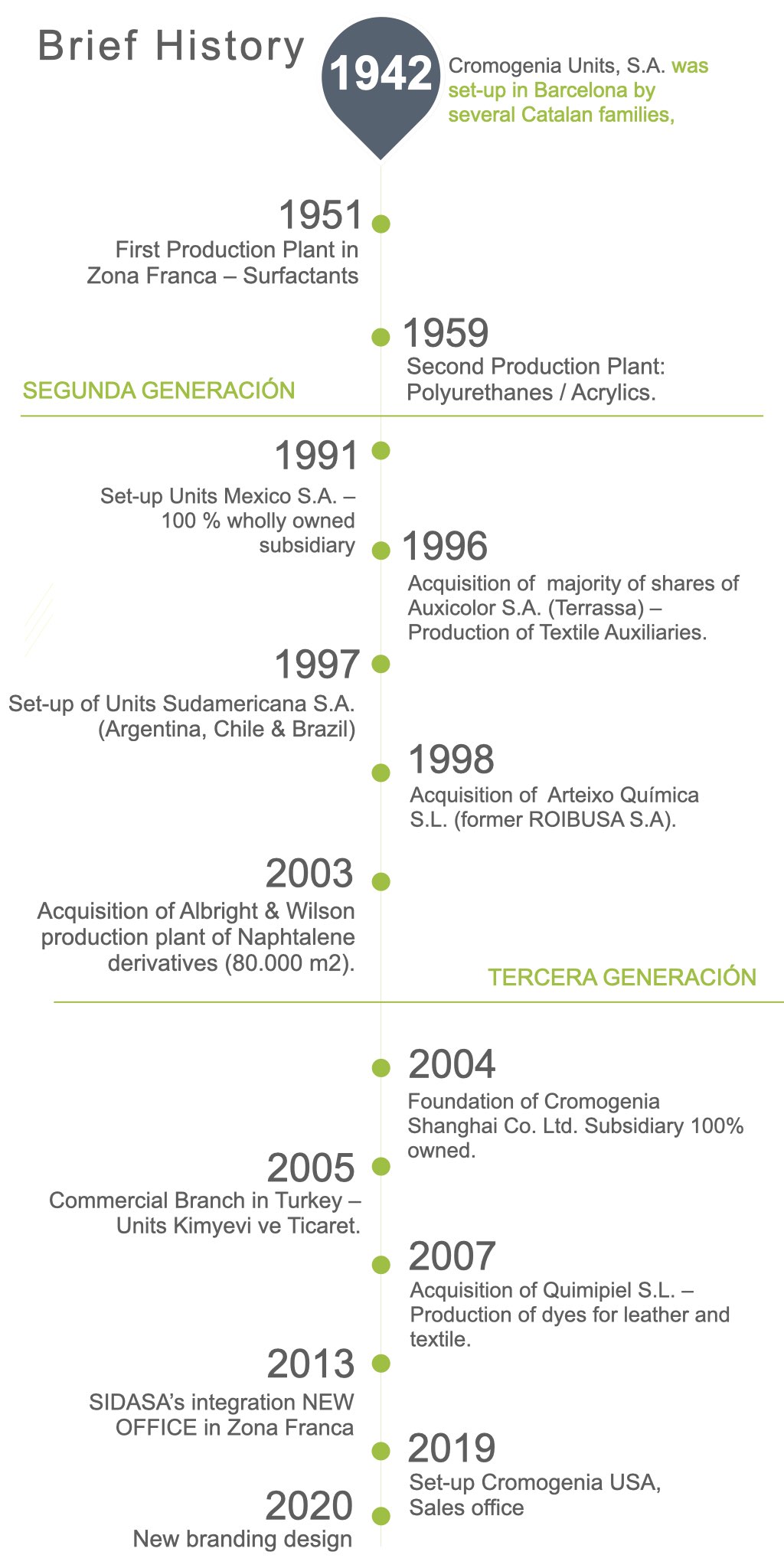 A view back to our past
Cromogenia Units  is a solid company with more tan 75 years of history that has based its force and growth on four fundamental pillars: people, innovation, internationalization and fabrics. These four pillars have always been present during our history so as they are in our present and will be in our future. Values that are the base for stability, creativity and projection of our company.

Do you need more information about our products? Do you want to contact us?
C/ Cuarenta, 14-16 - Sector E Zona Franca    
 08040 Barcelona (Spain)
+ 34 934 329 400